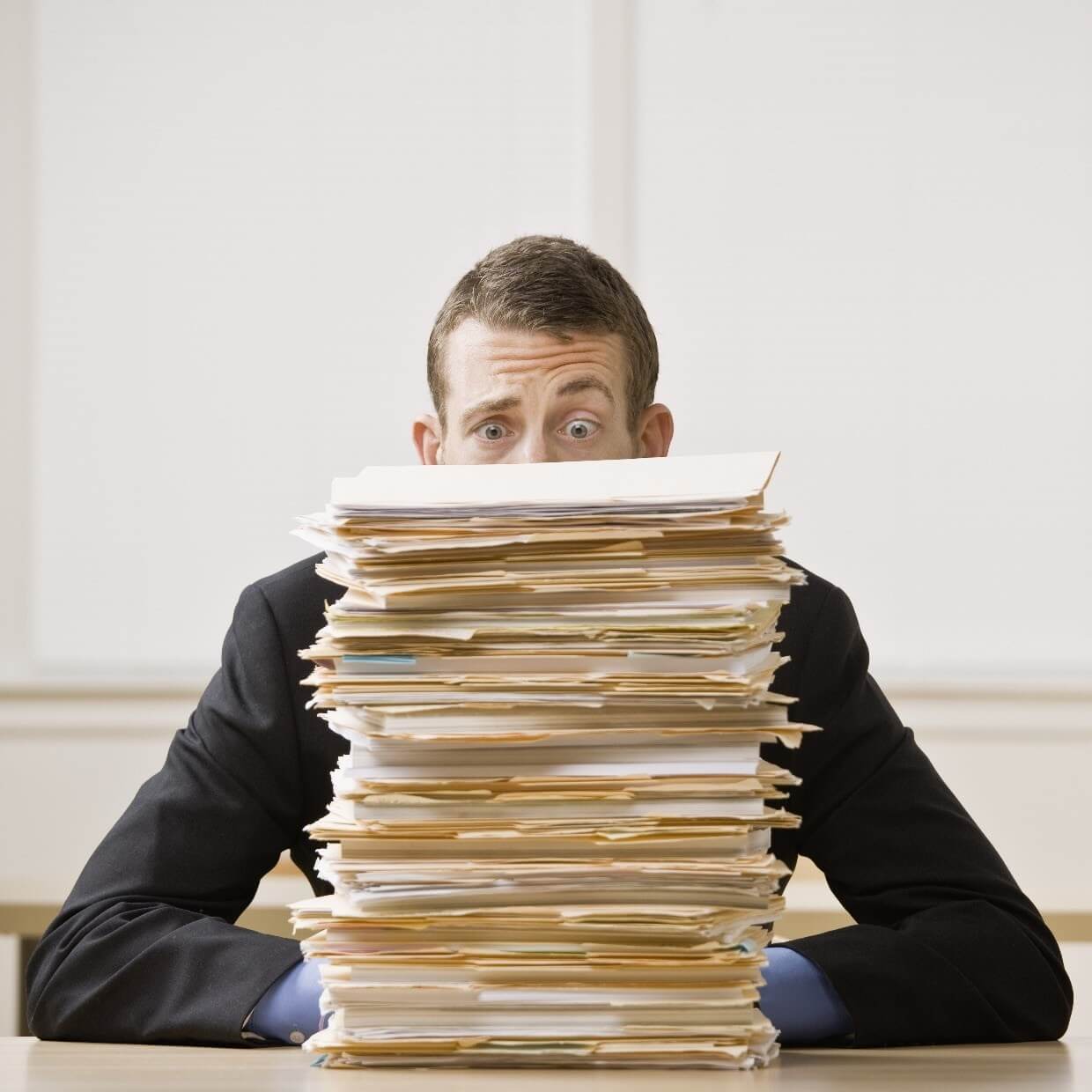 You know you've got some papers to get rid of – but reading about on-site vs. off-site shredding just adds to the pile of confusion. Do you have to deliver the papers yourself, or will a paper shredding company come to pick them up? What if you want to drop off the papers yourself – is there an option for that?
It's easy to get lost with so many services to choose from, which is why today, we're going to take a look at the difference between off-site and on-site document shredding. Along the way, you'll learn what each service includes, and how to tell if it's the right shredding option for you or your company.
What is On-Site Shredding?
On-site document shredding refers to shredding that is completed "on-site" – that is, at your location. For example, let's say that you were to set up a shredding appointment for your business. One of our mobile shredding trucks would arrive on-site at your location for the appointment. Since each of our state-of-the-art shredding trucks houses an industrial shredder, all of your documents can be processed right then and there, directly outside your place of business.
On-site shredding is generally favored by our scheduled shredding customers and clients who request one-time purge shredding. It's an all-in-one service that's as convenient as it is quick. Our trucks can shred up to 5,000 pounds of paper every hour (that's a little more than the weight of a Jeep Wrangler, for comparison).
What is Off-Site Shredding?
Off-site shredding takes place away from where the customer is. Really, it's just a fancy industry term to say, "We'll shred it at our secure shredding facility." With off-site shredding, you won't necessarily get to see your papers shredded (many companies, ours included, do offer witnessed shredding, but you'll need to make an appointment for a specific time). Instead, a truck will either come and collect your documents or you can drop them off directly at the facility. Many of our clients favor this option for the simple flexibility it provides.
Are There Any Other Differences?
Nope! No matter whether you choose off-site or on-site shredding, your papers will be processed to the same level of security, and you'll always receive a Certificate of Destruction to verify that the documents were correctly discarded. If you were shredding documents on behalf of your company or business, the Certificate will function as proof that you outsourced your shredding to a verified and certified shredding service.
Which One Should I Choose?
Ultimately, the preference is a personal one. You'll still get the same quality of shredding service no matter which option you choose. There are some general guidelines that you can use to decide:
On-Site Shredding – Ideal for those with a large volume of items to shred, or for those who want to personally verify that their items have been shredded.
Off-Site Shredding – Ideal for those with a small volume of items to shred, or for those who would prefer to drop off their items and get on with their day.
If you're still not entirely sure which option is right for you, we have a special, industry-insider-only tip to help you figure it out: call the shredding company and ask! We're always happy to answer any questions our customers may have, and since we know our service options inside and out, we're usually able to recommend the perfect service match after hearing what items you have for shredding.
Gator Mobile Shredding: Convenient & Confidential
At Gator Mobile Shredding, we specialize in document destruction services that enable you to remain fully compliant with federal and state privacy regulations. We're proud to serve both residents and companies alike throughout Ohio and West Virginia, and our firm dedication to recycling 100% of the paper we process means that you've chosen an environmentally-friendly way to discard your old papers.
For more information on our off-site and on-site document shredding services, give us a call at our West Virginia office, (304) 488-8627, or our Ohio location, (740) 236-0304. You can also send us a message online!