Gator Shredding offers One-time purge shredding services for our business customers. All shredding is completed at business' location and we welcome our customers to witness the destruction of their documents. Certificate of destruction is provided.
One-Time Purge Shredding Services
Gator shredding will come to your location to shred your documents on site. We offer one-time shredding services. Gator Shredding makes it convenient for our business and residential customers even if it's just a one time shred project. Is it time for that quarterly or annual file purge or do you just need to securely dispose of private documents that have accumulated over the years? Our friendly and knowledgeable staff will assist you with planning, pricing and scheduling of your one-time document destruction.
Planning
There is no need to prep the paper! You do not have to remove staples, paper clips or rubber bands. You don't have to prepare the documents to be shredded in any way. We make the shredding process simple. We will help you determine the volume of paper to be shredded.
What should you shred? Everything.
Approximately 50% of every document has some piece of information on it that requires shredding before being thrown away. Don't take any chances – contact Gator Shredding and we will assist in shredding your documents when they are no longer needed.
Why You Should Shred
Ensure that all documents and media are disposed in a secure and confidential manner
Increase office productivity
Increase security
No shredder to purchase or maintain
All shredded material is recycled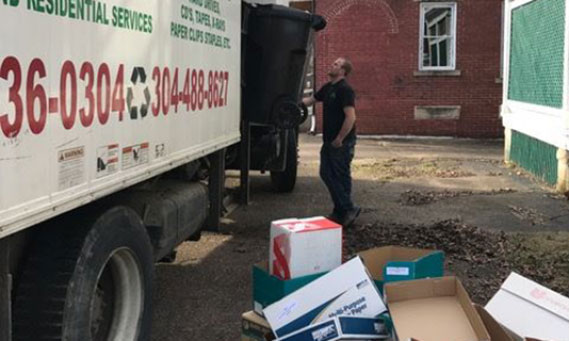 Scheduling
We will do our best to get you scheduled when you need your shredding done at your location. We will work around your schedule and get you on the calendar as soon as possible.
Shredding Process
Just contact us and we can walk you through the whole process, including giving you pricing and scheduling your document destruction appointment right away.
When the shred truck arrives at your location, our document destruction specialist will request the location of your documents. Your papers will then immediately be placed into one of our shred bins. the bin is then rolled to the truck where the automated shredding takes place. The bin is lifted and your documents are emptied directly into the shredder. Your documents are destroyed before we leave your location.
Our Shredding Trucks
Gator Shredding has on-site mobile shredding trucks that can destroy up to 6,000 pounds of paper per hour. This means that Gator Shredding can destroy your files in a fast and efficient manner that guarantees your confidential documents are securely destroyed before we leave your location.
Your one-time shredding service is just one phone call away! We are here and ready to assist you.
We are committed to protecting the environment
All shredded material is taken to our secure facility where it is baled and sent to the paper mill to be recycled into items such as paper towels, toilet paper and/or napkins. Recycling paper saves trees, conserves water and reduces the amount of waste going to landfills.