Gator Shredding offers a variety of secure collection containers. Our containers securely store confidential paper files that require document destruction with our mobile shredding service.
Gator Shredding provides FREE security containers for our clients on a regularly-scheduled shredding program. We have a variety of container sizes and shapes to choose from.
Lockable Collection Containers
Our staff will work with you to determine the appropriate quantity and size of the containers that best fit your office layout and shredding volume. All containers are secure, locking, and tamper-resistant. Your staff simply deposits confidential records inside the bin.
Our bins feature a convenient slot for inserting small stacks of files, without needing to unlock the container. Your unwanted documents are securely protected, under lock and key, until your next scheduled shredding service. Gator Shredding's qualified staff will empty the bin on a pre-set schedule and destroy your documents, at your location, with our high-capacity mobile shredding trucks.
Reduce the Risk of a Data Breach
Secure shred containers minimize your risk of a data breach. Instead of placing loose documents in the garbage or recycling bin, your staff will use our free, locking containers. Our security containers and shredding service help your organization comply with state and federal privacy laws. Many of our clients enforce a "shred everything" policy that ensures no files or scraps of paper end up in the wrong hands.
Benefits of a Shred All Policy
A "Shred All" policy eliminates the guesswork entirely from your staff. In fact, it's exactly as it sounds. If you no longer require a customer file or confidential marketing report, get rid of it through professional shredding.
Have old budget sheets sitting around that are no longer applicable? Shred them.
Got unneeded or redundant employee records? Shred them.
Back workroom covered in printouts for past meetings? You guessed it.
If you have to ask yourself whether something is sensitive or not, it's in your best interest to simply go ahead and shred it. When in doubt, a Shred All policy takes care of the deliberation for you. It also reduces clutter throughout your workplace, which provides a huge benefit to both your daily workflow and your office morale.
Contact Gator Shredding today for a free consultation. We'll help you choose the right combination of carts and consoles to fit your requirements. There is never a charge for the shredding bins, only when we perform the shredding service. Our knowledgeable representatives will help you determine a shredding schedule that makes sense for your business.
Join the collective of organizations throughout West Virginia and southeastern Ohio who trust Gator Shredding to keep them compliant with industry privacy regulations.
Executive Shred Console
Our executive lockable shredding console is perfect for any office environment. It is attractively-designed and integrates seamlessly into your office space. The flat-top even serves as a convenient countertop for a printer, without obstructing the functionality of the bin.
There is a generous opening to allow the easy deposit of stacks of paper. The deflector prevents unauthorized file retrieval, even when the console is nearing capacity.
Secure, built-in lock with key
Available in two heights: 36" or 24"
Manufactured in North America
Anti-phishing paper deflector improves security
180-degree hinge for easy opening
Dimensions:
Height 36" or 24"

Width 15.75"
Depth 20"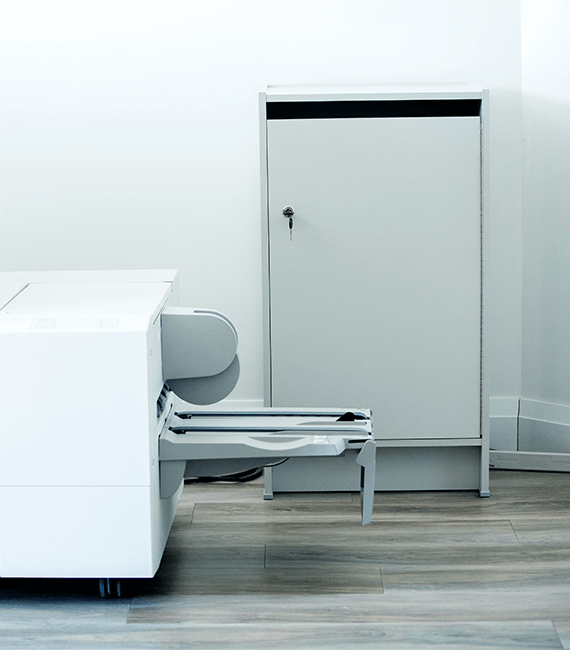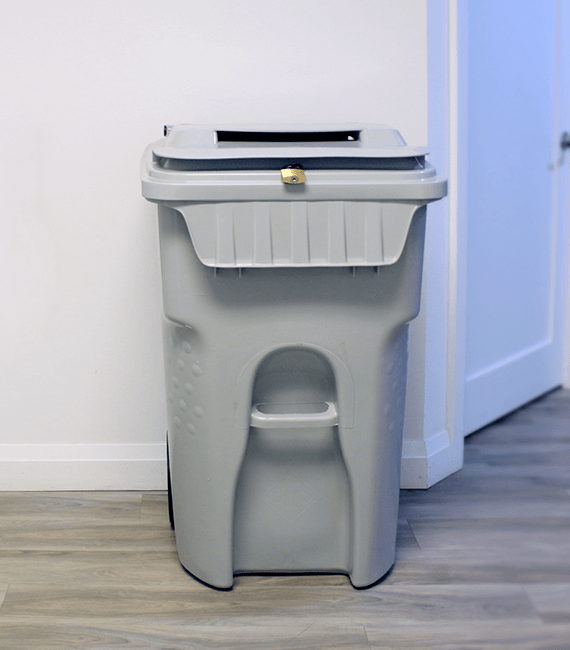 Shred Cart
Our high-capacity lockable shredding carts are perfect for holding a large volume of sensitive documents. The carts are portable and can be easily wheeled into place anywhere that provides easy access for your entire staff.
The carts are conveniently designed with a built-in hasp, allowing you to secure them with a padlock.
Generous capacity up to 65 gallons or 300lb of paper
Secure padlock hasp
Rubber wheels for easy and quiet rolling when collection cart is full
Easily accessible paper slot
Dimensions:
Width 25 1/8"
Depth 29 ½"
The Shredinator
This lockable shredding container fits almost anywhere. It's our most popular choice for professionals, executives, and doctors. When space is tight, The Shredinator is an excellent alternative to the Executive Shred Console.
These bins lock securely and are available in a variety of different heights, ideal for placement under countertops and desks. The Shredinator is a secure choice for storing confidential paper documents.
Tamper-proof lid
Lockable for document protection
Conveniently sized for small spaces
Dimensions:
Height 24", 27", or 30"
Capacity 16, 20, or 23 gallons
Width 11"
Depth 20"