In 2016, almost 92% of all security breaches occurred as a direct result of data theft. No matter whether it's your own personal information or your company's client accounts, your data is worth protecting. That's where Gator Shredding's mobile document destruction services come in.
With service directly to the door of your Charleston home or business, Gator Shredding is a convenient, cost-effective provider of secure document destruction services.
When it comes to gaining access to your accounts, personally identifiable information (PII) is as good as gold to a thief. And unfortunately, many people fail to recognize this information for what it is and leave it unprotected in the public trash.
PII is any information that could be used to identify a specific individual. This includes:
A name
An address
A signature
A birthdate
An account number
Payment information
A document shredding service eliminates the chance that this information will be fished from your trash by making sure it never ends up there to begin with.
Gator Shredding offers customizable document disposal and information management services. We first determine how much paper you have to discard, and then work with you to create a plan for your shredding. We don't only process paper, either – our hard drive shredding and e-media recycling program makes it easy to protect digitally-stored data.
Many industries, such as healthcare and finance, must adhere to specific privacy protection legislation such as HIPAA, FACTA, or GLBA. Gator Shredding has the training and equipment to ensure that every document we process is destroyed in full compliance with the latest state and federal privacy protection guidelines. This, in turn, protects your Charleston business from liability or fines for improper document disposal.
Every shredding appointment, no matter whether it's a one-time purge or a recurring scheduled visit, concludes with the issue of a Certificate of Destruction. This functions as your proof that you trusted your documents to a professional shredding company for correct disposal.
Our Shredding Services: Convenient and Customized
Every business has different requirements for document shredding. Charleston entrepreneurs can select from a variety of shredding service plans, all of which can be customized to suit your volume of papers and your schedule.
It's easy to prepare for your shredding appointment. Remove documents from any binders that may be containing them (but don't worry about paper clips, rubber bands, or staples). Gather them together in a box or bin, and you're all set!
One of our state-of-the-art shredding trucks will arrive, shred everything right before your eyes, and sort out any non-paper fragments after the fact to prepare the particles for recycling.
One-Time Shredding
If you have years and years of files to get rid of, a one-time shredding purge might be just right for you. Our mobile shredding vehicles make it easy to shred thousands of pounds of paper in a single visit. Simply specify the time and place you'd like our truck to arrive, and we'll shred as many documents as you have to throw in. Afterward, we'll transport the particles for secure recycling by a trusted local partner.
Scheduled Shredding
Designed for Charleston businesses that regularly produce a large number of documents, scheduled shredding services are an easy way to keep the office clean and secure. Our technicians will come by on a schedule you request and shred your documents on-site where you can witness the process. Scheduled shredding customers are eligible to receive secure shredding containers free of charge, which can be used to safely store confidential documents until your next shredding appointment.
Residential Shredding
Homes aren't exempt from the presence of personal or confidential documents. If you've got some papers to get rid of, call Gator Shredding. Our residential shredding service will drive directly to your front door and shred them on-site in one of our mobile shredding trucks. Each and every piece of paper will be cross-cut into tiny pieces before it ever leaves your property, and afterward, we'll directly transport the particles to our local recycling partner.
Hard Drive Shredding
Deleting files on your computer doesn't mean they've been erased from your hard drive. Gator Shredding's hard drive destruction service makes it impossible to ever retrieve those files again. We also recycle 100% of what we process, making it a confidential and environmentally-friendly way to say goodbye to old e-media devices.
How Your Charleston Business Benefits From Document Shredding:
Keep sensitive files safe from unwanted exposure through professional destruction solutions
Ensure compliance with critical industry legislation for privacy protection
Reduce the risk of identity theft & fraud
Focus on important business processes that don't take away from employee productivity
Benefits of Hiring Gator Shredding
Employees aren't distracted from their individual job roles to shred files with an office shredder
Our shredding process reflects a strict chain of custody, offering 100% protection and confidentiality over your information
No need to take documents off-site; our team looks after the logistics and shreds all material directly on your premises
Any leftover paper particles are collected for responsible recycling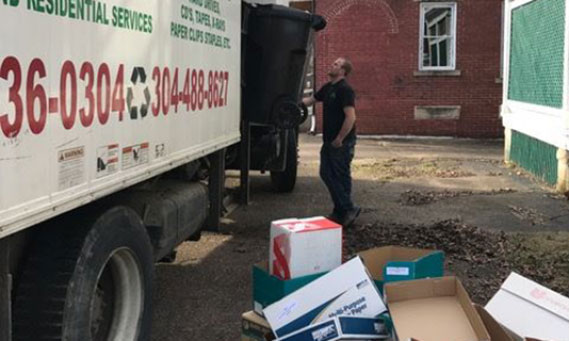 Document Destruction Experts: Gator Shredding
From the moment we collect your papers to the second they're dropped off for secure recycling, our document destruction services are designed to keep your information completely confidential. Regardless of whether you're a Charleston homeowner or entrepreneur, you'll be able to count on Gator Shredding to keep your information safe.
As a member of the National Association for Information Destruction (NAID) and a provider of shredding services throughout West Virginia and Ohio, you can be confident in your decision to trust us with your information.
Contact our team to talk about your shredding needs today by calling our office at (740) 236-0304 or request a quote online.
We are committed to protecting the environment
All shredded material is taken to our secure facility where it is baled and sent to the paper mill to be recycled into items such as paper towels, toilet paper and/or napkins. Recycling paper saves trees, conserves water and reduces the amount of waste going to landfills.