Identity theft is an unfortunate crime that unfortunately still seems to occur on a regular basis. It not only affects individuals across the United States, but it also targets businesses as well if they aren't careful. Taking one look at the news, it's inevitable that we'll be faced with a news story surrounding theft or fraud that has occurred near our region. While there is no way to completely stop such a crime, there are ways in which we can be proactive in protecting ourselves, and that begins with some important business practices. To start? If you are an Clarksburg business owner, a detailed document shredding program for your company is vital in securing those sensitive documents that need to remain private. Protecting your security starts internally and this means ensuring you have the proper document management program in place. What does this involve? Primarily this refers to safe and professional document storage and document shredding.
Failing to practice such habits, how can you really know whether you are sustaining confidentiality over confidential business matters? Plus, how can you feel sure that private information surrounding your employees and customers has not been exposed mistakenly? These are the questions you'll want to ask yourself and should be taking seriously if you want your business to be protected from outside threats. If you don't have a document shredding program in place, there's a good chance documents could be slipping out the door without you even realizing.
A document management program is only successful if it is used appropriately. The goal behind managing your documents is to reduce security threats and improve employee productivity levels. One tactic used by many business managers is through training staff to follow a Clean Desk Policy. This policy is basically in place to reiterate the importance behind document security, through keeping their desk free of clutter and sensitive paperwork that could otherwise be lost or stolen, left out in plain sight.
Taking appropriate measures to maintain security over your documents is necessary at least until the retention period has surpassed and the shredding process can begin. Once paperwork is no longer needed for future reference, it should be securely disposed of in a locked, shred bin where it will remain untouched and protected until collected for destruction. When you partner with a document shredding company like Gator Shredding, your Clarksburg business will be supplied with these collection containers if a regular shredding schedule is agreed upon and put in place. Keep records safe from prying eyes and have peace of mind in knowing that your documents are safe.
Gator Shredding follows a strict chain of custody to ensure all data and records are disposed immediately in a secure and confidential manner. Our specialized mobile shred trucks bring 6000lbs of document shredding power per hour to your location. Concerned about compliance? We've got our back and are proud to share that we are HIPAA compliant and FACTA compliant.
Why is Document Shredding an Important Process for Your Business?
Reduces the Threat of Identity Theft
Privacy Legislation Mandates Private Matters are Protected
Ensures Total Security and Privacy
Keeps Sensitive Documents Safe from Possible Exposure
Document Shredding Solutions We Provide:
The destruction process is carried out in a matter of minutes; efficient and secure, we work quickly to shred through your documents, so there is little interruption in your work day. Our customers are welcome to witness the shredding process if desired; in either case, staff can continue focusing on their day-to-day business duties immediately after we've loaded your documents onto our trucks. No need to worry about a loss in productivity! Our team is qualified and trained to conduct the destruction process in a matter of minutes.
Aside from disposing of your documents, nothing else is required of you; in fact, we don't even ask you to remove staples, or rubber bands as our shred equipment can shred through all this effortlessly. Most importantly, we are dedicated to protecting your privacy from the moment we obtain your records, through until the shredding process itself.
As stated, we encourage our customers to watch the shredding take place for the additional peace of mind that is offered.  With each shred job, you also receive a written document that outlines the shredding has been performed according to privacy legislation and completed with the highest level of professionalism. This Certificate of Destruction should be stored away securely for your records, in case of a future audit.
Not sure what shredding solution is ideal for your business? This is where our expertise and industry experience will guide you in making the right decision. We will discuss with you your budget, paper use levels, and the office space you have available to determine what shred bins would be beneficial and what type of shredding program will match your requirements. We are honest and upfront with cost expectations so there are no unwanted surprises down the road. We will gladly customize the program exactly how you want it as we know not every clients' needs are the same. If you collect large quantities of documents on a regular routine, you may prefer our on-going shredding option; if you'd like to clean up unnecessary clutter and/or you're relocating across the city, a one-time purge for your company might also be beneficial. Have old files sitting around at home that need to be disposed of properly? We provide residential shredding solutions to those in Clarksburg as well. Stay safe from the risks of information theft and help keep your home clutter-free at the same time. Our residential shredding program easy and a convenient solution for upcoming moves as well
Electronic information should be properly protected too! If you're not aware, your hard drives can offer a wealth of information if discovered by the wrong person. These needs to be properly destroyed prior to throwing them out for your protection and security. If you've made computer updates or have done a recent clean-out of your office, take this opportunity to gather up any hard drives that you aren't using anymore to have then professionally destroyed. Gator Shredding makes disposal a super easy process as both your document shredding and hard drive destruction needs can be performed right on-site at your location. If your Clarksburg business is considering outsourcing its shredding needs, we hope you'll consider our team to get the job done properly. When you partner with us, we guarantee 100% protection and compliance through our thorough and strict approach to protection and compliance with privacy legislation.
Why You Should Shred
Ensure that all documents and media are disposed in a secure and confidential manner
Increase office productivity
Increase security
No shredder to purchase or maintain
All shredded material is recycled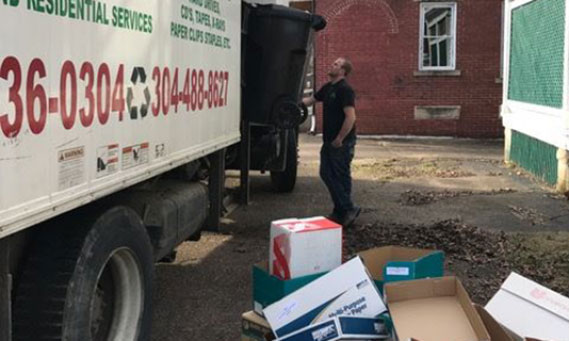 Choose from Several Document Shredding Solutions:
One-Time Shredding for Organizations
On-Going, Regularly Scheduled Shredding
Residential Shredding
Hard Drive Destruction
Why Partner with Gator Shredding for Your Clarksburg Company?
Productivity Levels Will Increase Substantially
Improves Security Measures
An Office Shredder Isn't Reliable
Shredding is Carried Out Quickly and Efficiently
We Handle the Logistics
All Shredded Particles Are Sent for Recycling
Ready to start shredding with us? We are looking forward to working with you; we offer no obligation, free quotes and can explain each of our shredding options in more detail for you if you'd like. We are here to help make the process a smooth one!
We are committed to protecting the environment
All shredded material is taken to our secure facility where it is baled and sent to the paper mill to be recycled into items such as paper towels, toilet paper and/or napkins. Recycling paper saves trees, conserves water and reduces the amount of waste going to landfills.