Gator Shredding services make shredding easier. We offer on-site shredding, one-time purge service, ongoing shredding, and hard drive destruction for our residents and businesses in Grafton. Your documents deserve the best security. Our services provide the best defense against data breaches and identity theft.
If your Grafton`s business handles the personal or confidential information of your clients, you might be obligated to operate in accordance with state or federal privacy regulations. With Gator Shredding, you can rest assured all the papers are securely shredded.. Our services are 100% compliant with HIPAA, FACTA, GLBA, and FERPA. This means that when you trust your documents to our care, you're safe from the potential fines or liabilities that occur as a result of improper file disposal

If you are looking for a reliable and secure shredding solution you can contact us simply by filling out the contact form or call us at 304-488-8627.
Why Shred With Gator Shredding
Residential Shredding
Document shredding isn't just for businesses. Grafton homeowners can take advantage of our residential shredding services to safely and securely discard documents from home. Simply drop off your items for shredding at one of our facilities, or, if you can't make the trip, schedule a locking bin drop-off or a pick-up of your accumulated papers. We accommodate our clients depending on their needs. You can contact us for any inquiries.
Hard Drive Shredding
We're living in a digital age, which means that you or your Grafton company likely use hard drives or another digital storage device to contain information. Unfortunately, erasing this information isn't as easy as dragging it to the Recycle Bin on your desktop computer. Hard drive shredding and electronic destruction are the only way to guarantee that the physical imprint of your information can never be copied from the device's hard drive.
Why Should Your Bridgeport Business Partner with a Shredding Company?
Your confidential papers will be protected from unwanted exposure through professional shredding
You will remain compliant with industry legislation surrounding privacy protection
The risk of identity theft & fraud drops dramatically with professional shredding
Hiring a document shredding company allows you to focus on business processes that don't take away from employee productivity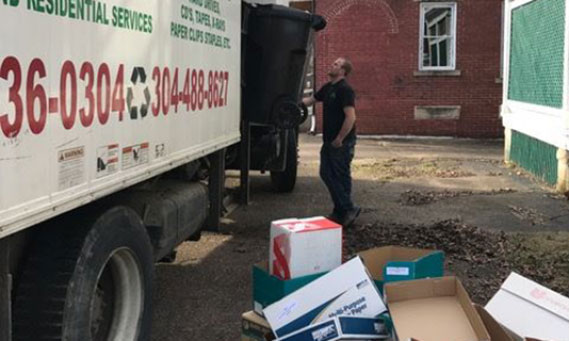 Variety of Shredding Solutions:
One-Time Shredding for Businesses
On-Going, Regularly Scheduled Shredding
Residential Shredding
Hard Drive Destruction
Advantages of Partnering with Gator Shredding
Contributes to Higher Productivity Levels
Improves Security Measures
Greater Reliability than an Office Shredder
Shredding is Performed in a Timely Manner
We Look After the Logistics
All Material Shredded is Collected for Recycling
We Recycle
100% of all the paper gets recycled and sent to our mill. Gator shredding strives to protect the environment and while we protect your privacy we recycle the paper products that will save trees.

When you make Gator Shredding a trusted partner for your Grafton business or residence, you can be confident that your records are in professional hands. Through our industry-grade shredding process, your files will be securely destroyed and you'll be able to effortlessly remain in full compliance with privacy laws. At the end of the shredding process, we will issue you a certificate of destruction so you can be confident that all your private information is shredded.
Are you ready to talk to us about your document shredding requirements? Contact our team at (740) 236-0304 or request a quote online.
We are committed to protecting the environment
All shredded material is taken to our secure facility where it is baled and sent to the paper mill to be recycled into items such as paper towels, toilet paper and/or napkins. Recycling paper saves trees, conserves water and reduces the amount of waste going to landfills.