We use information every day: in our personal lives, in our workplaces, and in daily conversation. Information is the key to our accounts, to our identity, and even to the success of our business. However, we also frequently take this information for granted.
Document destruction services are one of the best methods available for the protection of information and Gator Mobile Shredding provides mobile paper shredding services directly to the door of your home or business in Glenville.
For information thieves, credit card statements and account numbers are as good as gold – and they're freely available in most trash bins. When you discard a paper or document that contains any kind of personally identifiable information (PII), you're placing it at risk of theft or loss as soon as you let go of the trash bag. A secure document shredding program eliminates this possibility by ensuring that each and every piece of paper is cross-cut and safely transported to a trusted recycling facility.
A professional document shredding service like Gator Shredding works with you by discussing your current methods of document disposal and information management, including the volume of paper you usually discard, to create a customized plan for shredding. We also offer an e-media and hard drive disposal service to protect digitally stored information.
If you're a business that stores or collects any kind of confidential information, you're likely obligated to follow specific information management protocols to protect that information. Gator Shredding's document disposal services are fully compliant with legislation like HIPAA, FACTA, GLBA, and FERPA. Choosing to trust us with your document shredding means that you can be confident that you are protecting yourself and your company from potential liability or fines associated with improper document disposal.
After each and every shredding appointment, no matter whether it's a one-time purge or a weekly scheduled visit, we'll provide you with a Certificate of Destruction. This document records the fact that your papers were destroyed in full accordance with the latest laws and regulations by a professional shredding company.
Convenient & Customized Shredding Services
The needs of every business are different, which is why Gator Shredding is committed to customizable service plans. Based on the needs of your Glenville business or home, you can choose from:
Preparing for your shredding day couldn't be easier. Simply remove documents from any binders they're currently contained in and gather together in a box or bin. Don't worry about staples, paper clips, or rubber bands – our state-of-the-art shredding trucks can go through over 6,000 pounds of paper every hour, and we'll sort out the metal fragments from the paper bits before recycling.
One-Time Shredding
Designed for companies and businesses with a backlog of files to get rid of, one-time shredding makes it easy to securely destroy a large number of documents in a single visit. Our mobile shredding vehicle will arrive at the time and place you specify, shred as many documents as you have to throw in, and safely transport the particles to a trusted local recycling partner for processing.
Scheduled Shredding
If your Glenville business goes through a large number of documents on a regular basis, scheduled shredding is the answer. Eliminate the hassle of fighting with an office shredder and let our technicians come by, collect your documents, shred on-site where you can witness the process, and depart. We'll even provide secure shredding containers to safely store papers until your shredding day, and if you're a scheduled shredding customer, the containers are included free of charge.
Residential Shredding
Working from home, or simply have some documents around the house that shouldn't be thrown into the public trash? Gator's residential shredding service will drive directly to your front door. Our technician will collect your papers and deposit them directly into the shredding truck's internal shredder, which means that your papers will be cross-cut into tiny pieces before they ever leave your property. When the process is complete, your documents will be directly transported for secure recycling.
Hard Drive Shredding
Even if you've dragged all the files to the digital recycling bin, there are still ways to retrieve them. Gator's hard drive destruction service makes it 100% impossible to retrieve old data, making it a safe and environmentally friendly way to discard old e-media. We transport all particles to a trusted local recycling partner, preventing any chemicals or toxic materials from making their way into the water or soil.
Why Your Glenville Business Should Partner With a Shredding Company
Keep sensitive files safe from unwanted exposure through professional destruction solutions
Ensure compliance with critical industry legislation for privacy protection
Reduce the risk of identity theft & fraud
Focus on important business processes that don't take away from employee productivity
Benefits of Hiring Gator Shredding
Employees aren't distracted from their individual job roles to shred files with an office shredder
Our shredding process reflects a strict chain of custody, offering 100% protection and confidentiality over your information
No need to take documents off-site; our team looks after the logistics and shreds all material directly on your premises
Any leftover paper particles are collected for responsible recycling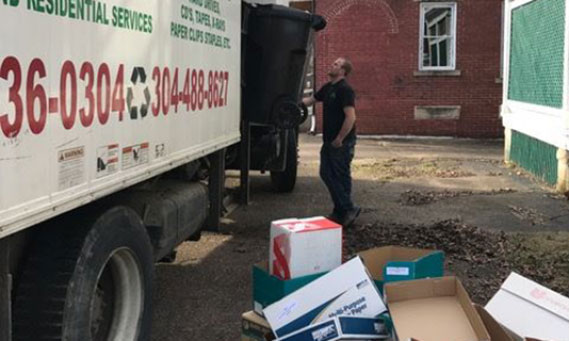 Gator Shredding: Your Trusted Document Destruction Experts
Our destruction services are designed to keep your information safe and out of the hands of thieves. No matter whether you're a Glenville entrepreneur or homeowner, you can count on Gator Shredding to provide the document destruction you need.
Our team provides paper shredding services throughout Ohio and West Virginia, and as a member of the National Association for Information Destruction (NAID), you can be confident that your information will be kept safe throughout each and every stage of the shredding process. Your privacy is our number one goal.
Let's talk about your document shredding needs. Contact our team today by calling our office at (740) 236-0304 or request a quote online.
We are committed to protecting the environment
All shredded material is taken to our secure facility where it is baled and sent to the paper mill to be recycled into items such as paper towels, toilet paper and/or napkins. Recycling paper saves trees, conserves water and reduces the amount of waste going to landfills.