Identity theft cases sadly occur all the time, and it seems as though this may be the case for quite some time as there continues to be an increase in reported cases across the United States. If you own a business in Morgantown, it is in your best interest to adopt the right security measures that limit your risk of falling victim to this frustrating crime. For example, do you currently have a document management process in place that includes secure document storage of your information?
How are you handling the disposal of your old records? These are the questions you should be addressing and taking seriously if you want your business to remain organized and protected from outside threats. Consider this; if you are failing to implement document shredding practices, how can you be sure sensitive information isn't slipping out the door?
A document management process can only be successful and effective if the results improve the overall organization, efficiency and security of your business. Some companies will implement a Clean Desk Policy, which motivates and reminds your staff to keep their desks clutter-free and most importantly, free from confidential paperwork that could otherwise be lost or stolen and therefore a security concern.
Taking appropriate responsibility over the security of your documents is essential until the retention period is up, whereby our document shredding services come in. When documents are no longer relevant, they should be disposed of in lockable security containers where they will stay secured until collected for destruction. When you partner with a professional shredding company like Gator Shredding, your Morgantown business will be supplied with these lockable containers at no extra fee when you sign up for regular shredding services.
Gator Shredding goes through great measures to ensure that all data and records are disposed in a secure and confidential method. Our specialized paper shredding trucks bring 6000lbs of document shredding power per hour to your location. For your security, we are proud to share that we are also HIPAA compliant and FACTA compliant.
Document Shredding Solutions We Offer
We handle document shredding in a very straightforward and timely manner. Our clients can continue focusing on their day-to-day business duties as we strive to complete the shredding process with little interruption in mere minutes. Aside from disposing of documents in your collection bins, there is no planning required on your part at all! No need to remove staples, rubber bands and any other "extras"; our shred equipment cuts through it all, with complete ease. Most notably, we place our greatest emphasis on ensuring your privacy is respected from the moment we collect your documents to the shredding process itself. Interested in seeing how the process works?
We welcome and in fact encourage, our clients to watch the process if they'd like that added reassurance. With every shred job, you are also presented with documented proof that your records have been shred in accordance with privacy legislation and carried out with the highest level of service. This Certificate of Destruction should be securely stored in a safe area where it is fully protected, should you require it for future reference.
Wondering what shredding service is best suitable for you? This is where our expertise comes in. We will work with you to talk about your ideas, budget, and unique circumstance so we fully understand what your preferences and budget are prior to selecting a service. We will explain each option to you and work together, customizing a program you're entirely satisfied with. If you have a significant volume of paper on a regular routine, you may prefer our on-going shredding service; if you'd like to clean up unnecessary clutter and/or you're relocating across the city, a one-time purge for your business may be more suitable. Have documents at home you're looking to get rid of safely? We also help residents throughout Morgantown stay protected from identity theft, through our residential shredding program.
Electronic data should be protected appropriately too! Keep in mind that your hard drives need to be safely destroyed when you no longer need them anymore. If you've made computer system updates recently or have done a major clean of your office, now is the perfect opportunity to collect these old hard drives for secure destruction. Gator Shredding makes disposal convenient and easy as both your document shredding and hard drive destruction needs can be completed together at your particular location. If your Morgantown business could benefit from our professional solutions, we highly recommend giving us a try. There is never a reason to stress about compliance or the state of your security when you choose to partner with our team; we guarantee 100% protection and compliance through our diligent and strict approach protection and compliance with critical privacy laws.
Why is Document Shredding so Important for Your Organization?
Reduces Risk of Identity Theft
Privacy Legislation Makes the Protection of Private Matters a Legal Obligation
Maintains Total Security and Confidentiality
Keeps Sensitive Content Secured from Exposure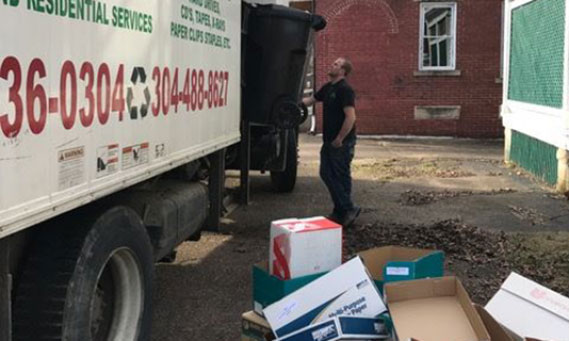 Choose from Various Services for Every Need
One-Time Shredding for Businesses
On-Going, Regularly Scheduled Shredding
Residential Shredding
Hard Drive Destruction
How Will Our Services Benefit Your Morgantown Business?
Contributes to Higher Productivity Levels
Improves Security Measures
Greater Reliability than an Office Shredder
Shredding is Performed in a Timely Manner
We Look After the Logistics
All Material Shredded is Collected for Recycling
Ready to get started and schedule your shredding job? Feel free to reach out to our team of specialists for additional information or to request a free, no-obligation quote. We are very happy to assist you!
We are committed to protecting the environment
All shredded material is taken to our secure facility where it is baled and sent to the paper mill to be recycled into items such as paper towels, toilet paper and/or napkins. Recycling paper saves trees, conserves water and reduces the amount of waste going to landfills.