Identity theft isn't just when a letter is plucked from your trash. It's the months afterward, too, spent trying to recover your accounts and your stolen money. A data breach isn't a flash of stolen data; it's years of repair to your company's reputation and thousands of dollars lost in legal fees.
That's why document shredding isn't just an optional service. It's the essential method of keeping your physical documents – and the information they contain – safe.
Your documents deserve the best security. After all, it's not just papers or records you're throwing away: they're names, account numbers, addresses, and other examples of some of the most valuable possessions you and your clients will ever own.
Gator Mobile Shredding is a professional document shredding service, and we'll drive right to your front door to shred your documents on-site, right where you can see. First, we'll discuss your current paper and disposal practices with you to get a feel for the kind of shredding you need. Based on that information, we'll then work with you to put together a shredding schedule (or arrange for a one-time purge shredding appointment) that perfectly suits your document disposal needs. We shred paper, e-media, hard drives, and more into tiny confetti-like pieces, and we then transport those fragments directly to a secure facility for recycling.
Our document shredding services are 100% compliant with the latest privacy regulations. If you work in an industry where you must comply with laws like HIPAA or FACTA, you can be confident that Gator Shredding's paper destruction services will keep you safe from fines or liabilities related to improper document disposal. In fact, we'll present you with a Certificate of Destruction after each appointment, so you'll be able to provide proof that you had your documents destroyed by a professional, accredited company.
Convenient, Customized Shredding in Pennsboro
Each business or home has its own shredding requirements, and at Gator Shredding, each one of them can find the perfect shredding plan. Pennsboro business owners and entrepreneurs can choose from one-time purge shredding for a quick office cleanout, scheduled shredding for regular document security, or media destruction services to protect retired hard drives or other digital storage systems.
Prepping for your shredding visit is easy. There's no need to remove staples or rubber bands. Our document shredding trucks are capable of shredding over 6,000 pounds of documents an hour, ripping through staples effortlessly. You can even watch the process as it happens to personally verify that each and every paper has been properly shredded.
As an added bonus, our regularly scheduled shredding service comes complete with secure, locking collection bins. Place them around your workspace and use them to hold sensitive information. On shredding day, a Gator Shredding technician will safely empty and shred the contents, leaving the bins in place for continued use.
Why Should Your Pennsboro Business Outsource to Gator Mobile Shredding?
Better safety for sensitive files
Minimized chance of loss or exposure
100% compliance with privacy legislation
Reduces your risk of identity theft & fraud
Focus company resources on tasks that benefit your business, instead of trying to shred
Selection of Shredding Services:
Benefits of Hiring Gator Shredding
Employees aren't distracted from their individual job roles to shred files with an office shredder
Our shredding process reflects a strict chain of custody, offering 100% protection and confidentiality over your information
No need to take documents off-site; our team looks after the logistics and shreds all material directly on your premises
Any leftover paper particles are collected for responsible recycling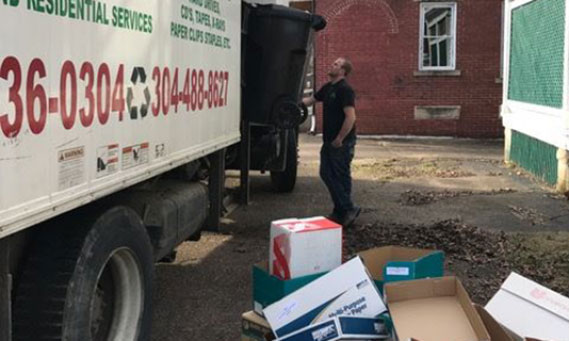 A Trusted Local Shredding Company
No matter whether you run a prominent business or you're a resident of Pennsboro, our document shredding services are designed specifically to keep your information confidential throughout every stage of the disposal process. Trust the experienced team at Gator Mobile Shredding for document and paper shredding services you can depend on, each and every time.
With AAA Certification from the National Association for Information Destruction, you'll know right away that you've chosen a shredding company that won't just shred your papers – we'll handle them with expert care and a rigorously defined chain of custody.
Contact our team today by calling our office at (740) 236-0304 or request a quote online and upgrade your document security with Gator Mobile Shredding.
We are committed to protecting the environment
All shredded material is taken to our secure facility where it is baled and sent to the paper mill to be recycled into items such as paper towels, toilet paper and/or napkins. Recycling paper saves trees, conserves water and reduces the amount of waste going to landfills.