Identity theft is an area of discussion we are all too familiar with; whether we've been affected by it personally or read about it in the news, it seems to be an ever-growing concern dominating news stories across the globe. In fact, identity theft can happen to both individuals and organizations throughout the United States, and in many cases, it seems to occur without warning. The risk may feel minimal to those who have never been directly impacted by it, but the statistics show alarming results. Shockingly, it has been said that one in five people believe that stealing online data isn't as dangerous as stealing physical property; studies further reveal that data theft accounted for close to 92% of all security breaches in 2016.
While online theft is a growing concern, it's no surprise that theft continues to occur beyond the online world. Credit card statements and account numbers are gold mines for thieves, and if you don't make a deliberate effort to protect these important details, they could be found in a recycling or trash bin (the first location dumpster divers check). Prevent this possibility by turning to a document shredding program to keep your information secure at all times.
A document shredding service like Gator Shredding will discuss with you your current disposal practices, including the volume of paper you typically discard, and will put together an appropriate collection schedule that fits these findings and your budget. We shred both paper and electronic media (such as CDs, hard drives, and SD cards) into tiny, unreadable bits, which are then responsibly recycled, reducing your carbon footprint and risk of information theft.
All businesses that collect and store confidential information about their employees or customers must have specific procedures in place to guarantee that nothing is mistakenly leaked. Gator Shredding is compliant with HIPAA, FACTA, GLBA, IRS, and FERPA mandates pertaining to privacy protection requirements. When you partner with our business, you are safe from potential liabilities or fines that are often tied to improper disposal. Following the destruction of your documents, we will present you with a Certificate of Destruction which clearly indicates the destruction process was performed according to regulatory standards.
Convenient and Customized Shredding
We work with every business differently, discovering the unique needs of each and coming up with a shredding plan that meets those needs.  All customers can select from a variety of shredding services based on individual preferences. Keeping your Point Pleasant company in mind, choose from one-time shredding for an office purge or our regularly scheduled shredding solution for organizations that collect files quickly. No need to remove staples or rubber bands; our trucks are capable of shredding over 6,000 pounds of documents an hour, shredding through staples effortlessly. We welcome clients to watch the process as it happens, giving you the chance to personally verify files have been satisfactorily shredded to your liking.
If your company collects sensitive files on a weekly basis and you're scrambling to keep things organized, you will likely benefit from our scheduled shredding service. This service also comes with the added benefit of locked collection bins, designed to fit seamlessly into any office environment. Files are locked away and protected until our team arrives to begin shredding. At your scheduled shred time, we come to you and empty your bins, shred all contained documents, and return them to you for continued use.
If you find that documents are piling up at home or taking up your personal storage space, take advantage of our residential shredding service. Simply drop your documents off at our secure facility at a date and time of your choice. Shredding takes place right away and you are welcome to witness the process in person as it occurs.
Your hard drives hold a substantial amount of data, much of it highly confidential. If you're ready to dispose of old floppy discs or CDs, we will happily look after the safe destruction of electronic waste as well. Keep in mind that while some people believe that wiping a disc clean is enough to prevent data from being stolen, it does not guarantee permanent data removal. Due to this uncertainty, it lacks reliability and shouldn't be used to replace destruction. Media destruction services, alternatively, offer data removal that is 100% trusted in destroying information.
We manage and track all serial numbers tied to your hard drives before the destruction process begins, which includes total pulverization of hardware beyond any possibility of repair. Once the destruction process is complete, we'll present you with a Certificate of Destruction that indicates the associated serial numbers for your own reference. We come to your location to carry out the service, so you'll never have to worry about a prolonged interruption in your workday.
Worried about your influence on the environment? We recycle all electronic parts and we offer a secure recycling program for larger office equipment such as computers and keyboards.
When you partner with Gator Shredding for your destruction needs, you can rest assured knowing that you are in experienced hands. Through professional, industry-grade shredding performed by our shred specialists, you will remain in full compliance with all applicable privacy laws.
Why Should Your Point Pleasant Business Partner with a Shredding Company?
Keeps your sensitive files safe from unwanted exposure through professional destruction solutions
Ensures you remain compliant with critical industry legislation for privacy protection
Reduces your risk of identity theft & fraud
Outsourcing allows you to focus on important business processes that don't take away from employee productivity
Selection of Shredding Services:
One-Time Shredding
On-Going Shredding Service
Residential Shredding
Hard Drive Destruction
Benefits of Hiring Gator Shredding
Employees aren't distracted from their individual job roles to shred files with an office shredder
Our shredding process reflects a strict chain of custody, offering 100% protection and confidentiality over your information
No need to take documents off-site; our team looks after the logistics and shreds all material directly on your premises
Any leftover paper particles are collected for responsible recycling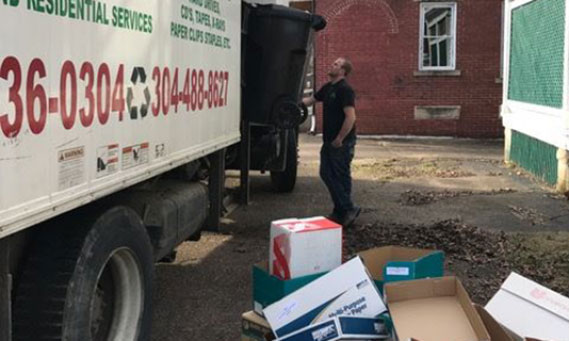 Your Trusted, Local Shredding Company
Whether you're a Point Pleasant business owner or a resident, our destruction services are built to keep information out of the hands of thieves. Remember that your garbage and recycling bins provide zero security for your sensitive files; never dispose of old records without properly shredding them first.
Rely on the team at Gator Shredding for document shredding you can depend on. We stand behind our work and are dedicated to ensuring information remains safe beyond any chance of recovery. Your privacy is our number one concern throughout everything we do!
Ready to discuss your document shredding needs with us? Contact our team today by calling our office at (740) 236-0304 or request a quote online.
We are committed to protecting the environment
All shredded material is taken to our secure facility where it is baled and sent to the paper mill to be recycled into items such as paper towels, toilet paper and/or napkins. Recycling paper saves trees, conserves water and reduces the amount of waste going to landfills.