Identity theft is a topic we hear about frequently in the news. In fact, this crime continues to target both individuals and companies throughout the United States, and often with no warning either. The risk may seem irrelevant to those who have yet to experience it, but the statistics reveal a different shocking story. Did you know that approximately one in five people believe that stealing online data isn't as harmful as stealing physical property? Studies also revealed that data theft accounted for almost 92% of all security breaches in 2016.
While online theft is clearly an increasing issue, theft doesn't stop there. Credit card statements and account numbers are gold mines for thieves, and if you don't make a conscious effort to safeguard these important details, they could be discovered in a recycling or trash bin (the first location dumpster divers check). Stop this risk entirely and instead, consider a document shredding program to keep sensitive information safe indefinitely.
A document shredding service like Gator Shredding will work with you to determine your disposal habits and needs, designing a collection schedule that makes sense for you and is in line with your budget. We shred both paper and electronic media (such as CDs, hard drives, and SD cards) into tiny, unreadable bits, which are then responsibly recycled, reducing your carbon footprint and risk of information theft.
Any company that stores or collects sensitive information pertaining to customers/employees is required to have certain processes in place to keep information protected. Gator Shredding is fully compliant with HIPAA, FACTA, GLBA, IRS, and FERPA mandates for privacy protection. When you choose our services, your company is protected against potential liabilities or fines associated with wrongful disposal. After your documents have been securely shred, we'll provide you with a Certificate of Destruction which outlines that all shredding was carried out according to regulatory standards.
Flexible Shredding That is Secure and Convenient
For a customized approach to document shredding, we treat every business and individual uniquely. Clients can choose from a wide selection of shredding services based on preference. Designed with your Pomeroy company in mind, choose from one-time shredding for an office purge or our regularly scheduled shredding option for businesses who accumulate files quickly. No need to remove staples or rubber bands; our trucks are capable of shredding over 6,000 pounds of documents an hour, shredding through staples effortlessly. We welcome clients to watch the process as it happens, giving you the chance to personally verify files have been satisfactorily shred to your liking.
If your company collects sensitive files on a weekly basis and you're scrambling to keep things organized, you will likely benefit from our scheduled shredding service. This service also comes with the added benefit of locked collection bins, designed to fit seamlessly into any office environment. Files are locked away and protected until our team arrives to begin shredding. At your scheduled shred time, we come to you and empty your bins, shred all contained documents, and return them to you for continued use.
Do you have one or two boxes of old documents sitting around your home you'd like to shred? We supply residential shredding exactly for this purpose. Feel free to drop your documents off at our secure facility at a time that's best for you. Shredding takes place immediately and if interested, you can witness the entire process in person.
Your hard drives are flooded with sensitive information. If you have old floppy discs or CDs, we will handle the safe destruction of electronic waste as well. Unfortunately, while some people believe that wiping a disc clean deletes any stored data, it does not guarantee information is permanently erased, which makes it an unreliable method to consider in the first place. Media destruction services, on the other hand, offer the only means of data removal that is 100% reliable in destroying information for good.
We manage and track all serial numbers tied to your hard drives before the destruction process begins, which includes total pulverization of hardware beyond any possibility of repair. Once the destruction process is complete, we'll present you with a Certificate of Destruction that indicates the associated serial numbers for your own reference. We come to your location to carry out the service, so you'll never have to worry about prolonged interruption in your workday.
Concerned about your impact on the environment? We recycle all electronic parts and we offer a secure recycling program for larger office equipment such as computers and keyboards.
When you partner with Gator Shredding for your destruction needs, you can have peace of mind knowing that you are in excellent hands. Through professional, industry-grade shredding performed by our shred specialists, you will remain in full compliance with all applicable privacy laws.
Why is a Document Shredding Service Vital for Your Pomeroy Business?
Protects sensitive information from exposure through secure destruction
Keeps your business compliant with industry regulations for privacy protection
Helps prevent identity theft and unwanted exposure of private information
Allows you to focus on other business processes, saving employees time
Variety of Shredding Solutions to Choose From:
One-Time Shredding
On-Going Shredding Service
Residential Shredding
Hard Drive Destruction
Advantages of Partnering with Gator Shredding
Employees aren't distracted from their individual job roles to shred files with an office shredder
Our shredding approach follows a strict chain of custody, providing 100% protection and confidentiality over your data
No need to take documents off-site; our team looks after the logistics and shreds all material directly on your premises
Any leftover paper particles are collected for responsible recycling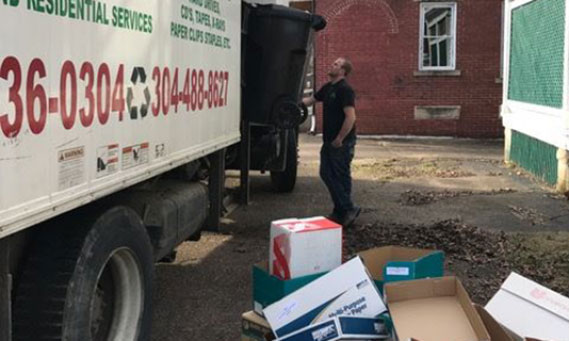 Your Trusted, Local Shredding Company
Whether you're a Pomeroy business owner or a resident, our destruction services are built to keep information out of the hands of thieves. Remember that your garbage and recycling bins provide zero security over your sensitive files; never dispose of old records without properly shredding them first.
Turn to Gator Shredding for solutions you can trust in. We stand behind our work and are committed to protecting your information beyond any chance of reconstruction. Your privacy is our number one priority throughout each step of the way!
Ready to speak to us about your document shredding requirements? Contact our team today by calling our office at (740) 236-0304 or request a quote online.
We are committed to protecting the environment
All shredded material is taken to our secure facility where it is baled and sent to the paper mill to be recycled into items such as paper towels, toilet paper and/or napkins. Recycling paper saves trees, conserves water and reduces the amount of waste going to landfills.