When it comes to personally identifiable information (PII), an ounce of prevention is worth a pound of cure. The theft of data was behind 92% of security breaches in 2016, and the physical theft of documents is still one of the best ways for thieves to get their hands on confidential information. It's not just a matter of personal responsibility, though – if you work in an industry that deals with client information, medical records, or educational records, then information protection is a matter of law. Gator Shredding's on-site mobile shredding services make it easy to safely discard old documents, files, and even hard drives.
Document shredding services from Gator Shredding make it easy for your home or business in South Charleston to safely dispose of your old papers. We'll discuss your current document management strategy, including the number of documents you discard on a given basis. Based on this information, we'll create an appropriate collection schedule to meet both your needs and your budget. We also provide electronic media shredding services, which make the information on your old hard drives, CDs, flash drives, and VHS tapes impossible to recover, even by the most skilled technician.
If your South Charleston business handles the personal or confidential information of your clients, you might be obligated to operate in accordance with state or federal privacy regulations. With Gator Shredding, you can rest easy. Our services are 100% compliant with HIPAA, FACTA, GLBA, and FERPA. This means that when you trust your documents to our care, you're safe from the potential fines or liabilities that occur as a result of improper file disposal. At the conclusion of every shredding appointment, we'll provide you with a Certificate of Destruction that functions as your proof that your papers were destroyed by a professional shredding company.
Customize Your Shredding
Every South Charleston business is different, and we specialize in identifying the unique needs of each company and creating a suitable shredding plan to address those concerns. Choose from a variety of shredding services to make an ideal plan for your company. From one-time shredding to clean out the office to regularly scheduled shredding to remove old papers on a regular basis, there's something for businesses of every size. You'll even have the option to watch the process as it occurs, to personally verify that your documents have been destroyed.
Scheduled Shredding Services
Does your South Charleston business handle or produce documents with sensitive information on a regular basis? If so, you're an ideal candidate for scheduled shredding. This service includes complimentary locking shredding bins, which are designed to seamlessly integrate into your existing office. These bins can be used to collect and securely store documents until your shredding appointment when our technicians will empty and shred the contents. From start to finish, we handle every aspect of the shredding process, so you don't even have to pause your day.
Residential Shredding
Document shredding isn't just for businesses. South Charleston homeowners can take advantage of our residential shredding services to safely and securely discard documents from home. Simply drop off your items for shredding at one of our facilities, or, if you can't make the trip, schedule a locking bin drop-off or a pick-up of your accumulated papers.
Hard Drive Shredding
We're living in a digital age, which means that you or your South Charleston company likely use hard drives or another form of digital storage device to contain information. Unfortunately, erasing this information isn't as easy as dragging it to the Recycle Bin on your desktop computer. Hard drive shredding and electronic destruction are the only way to guarantee that the physical imprint of your information can never be copied from the device's hard drive. As with our paper shredding services, you'll receive a Certificate of Destruction upon completion of the shredding process, which will record the serial numbers of the items that were destroyed.
100% Eco-Friendly
No matter what you're shredding, you don't have to worry about your impact on the environment. We recycle each and every particle we shred, including electronic fragments. We also offer a secure recycling program exclusively for electronic equipment, such as printers and keyboards.
When you make Gator Shredding a trusted partner for your South Charleston business or residence, you can be confident that your documents – and your information – are in professional care. Through our industry-grade shredding process, your files will be securely destroyed and you'll be able to effortlessly remain in full compliance with privacy laws.
How a Shredding Company Can Help Your South Charleston Business
Professional destruction solutions keep your sensitive files safe from prying eyes
Maintain compliance with the latest privacy protection regulations
Reduce the risk of identity theft or fraud
Remain focused on your work in South Charleston while you outsource to a professional service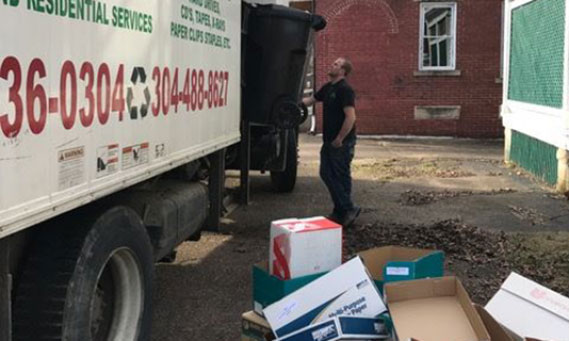 Selection of Shredding Services:
Benefits of Hiring Gator Shredding
Spare employees from wasted hours hunched over an off-the-rack office shredder
We ensure a strict chain of custody from the moment we collect your papers
No worries about ferrying documents to an off-site location; our team will process and shred all material immediately on location
We recycle all particles produced by our shredding process, so you can feel confident that you've minimized your impact on the environment
South Charleston's Local Shredding Company
No matter whether you're a South Charleston business owner, entrepreneur, or resident, our document destruction services are designed to keep your information 100% confidential, forever. Your curbside trash can just isn't designed with security in mind; we ensure that your security is our first priority.
For document shredding services you can depend on, call Gator Shredding. We proudly stand behind our work and our service, and we're dedicated to making certain that your information remains confidential at every stage of the shredding process.
Ready to discuss your document shredding needs with us? Contact our team today by calling our office at (740) 236-0304 or request a quote online.
We are committed to protecting the environment
All shredded material is taken to our secure facility where it is baled and sent to the paper mill to be recycled into items such as paper towels, toilet paper and/or napkins. Recycling paper saves trees, conserves water and reduces the amount of waste going to landfills.