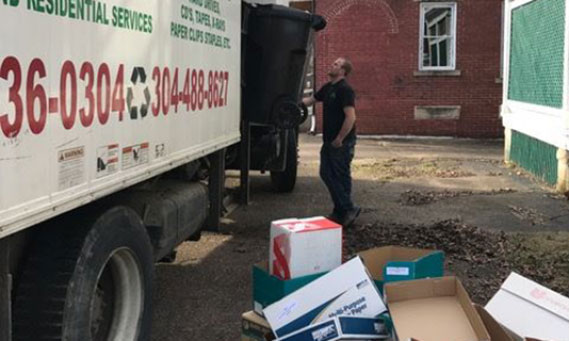 Your data is one of the most valuable assets you have, regardless of whether it's your own personally identifiable information (PII) or that of your customers. Gator Shredding provides professional document shredding services directly to the door of your home or business in St. Albans. Document shredding is one of the best ways available to protect your information in a convenient, cost-effective way.
Information is invaluable, especially when it pertains to the identity or history of a specific individual. Unfortunately, many people fail to recognize this information for what it is and leave this information unprotected in their curbside trash cans. Gator Shredding's paper shredding service completely eliminates any chance of this information being lost or stolen. In fact, it guarantees that your data will never be put in that position.
We provide customizable document destruction and information management services to customers throughout St. Albans. The process begins by consulting with you to determine how much paper you need to discard. We'll then help you create a shredding plan that perfectly meets your schedule and your document disposal needs. We're not a one-trick pony, either – in addition to paper, we also process and recycle e-media and hard drives to protect your digitally stored information.
If you work in an industry such as healthcare or finance, you're likely required to protect private information by regulations like HIPAA, FACTA, or GLBA. When you hire a professional document shredding company, you're hiring a company that makes certain their equipment and employee training are constantly up-to-date and compliant with these state and federal privacy regulations. It's never been easier to protect your business from fines or liability resulting from improper document disposal.
Convenient Shredding Services, Just the Way You Want Them
Different businesses have different shredding needs, which is why St. Albans entrepreneurs can design their own shredding service according to their preferences. 
Preparing for your appointment is simple. The only thing you have to do is remove documents from any binders that may contain them and gather them together in a central location. You don't even have to worry about rubber bands, paper clips, or staples. On the day of your shredding appointment, one of Gator Shredding's state-of-the-art mobile shredding vehicles will arrive and shred your items on-site, where you can observe the process. Immediately after shredding concludes, our technician will remove the shredded particles and prepare them for recycling.
One-Time Shredding
Say goodbye to years of old or unneeded files with a one-time shredding purge service, delivered directly to your door. Tell us when and where you'd like us to arrive, and we'll shred as many documents as you have to throw in.
Scheduled Shredding
Created specifically for St. Albans businesses with a heavy workload, our scheduled shredding service makes it effortless to maintain a clean, secure office environment. Our technicians will shred documents according to your requested schedule, and to help keep documents safe until shredding day, we'll also provide you with complimentary secure shredding containers. 
Residential Shredding
Homes produce their fair share of documents with confidential information, ranging from names and addresses on junk mail to outdated forms of ID. When you're ready to securely discard them, call Gator Shredding and request residential shredding services. We'll drive directly to your door, collect your items, and cross-cut them into tiny pieces, which we'll then transport directly to a trusted local recycling partner.
Hard Drive Shredding
Dragging a desktop file to the virtual recycling bin doesn't mean that the information is gone. Protect your digital data with Gator Shredding's hard drive shredding service. After the destruction, we recycle 100% of the remaining particles, making it an eco-friendly way to bid farewell to retired office equipment and digital storage devices.
The Benefits of Paper Shredding for Your St. Albans Business
Professionally protect confidential information, even after disposal

Guarantee compliance with industry privacy standards

Reduce the risk of identity theft & fraud

Allow your employees to focus on the business instead of paper disposal
Why Hire Gator Shredding?
Prompt & professional technicians, trained in the careful handling of confidential documents

Strict chain of custody control of your documents from the moment you entrust them to our care

On-site and off-site shredding to suit your document shredding requirements

Eco-friendly processing and recycling of 100% of processed materials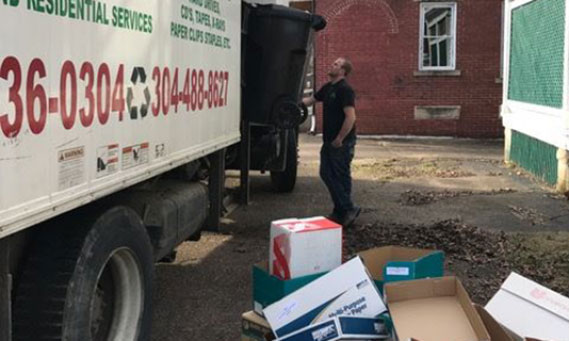 For Document Shredding in St. Albans, Call Gator Shredding
Our services have been designed from the ground up to protect your information and make sure it remains completely confidential throughout every stage of the shredding process. Regardless of whether you're a St. Albans homeowner or entrepreneur, you can count on Gator Shredding to protect your information.
As a member of the National Association for Information Destruction (NAID) and a provider of shredding services throughout West Virginia and Ohio, you can be confident in your decision to trust us with your sensitive documents.
Call our office today at (740) 236-0304 or request a quote online to begin shredding.
We are committed to protecting the environment
All shredded material is taken to our secure facility where it is baled and sent to the paper mill to be recycled into items such as paper towels, toilet paper and/or napkins. Recycling paper saves trees, conserves water and reduces the amount of waste going to landfills.