Whether we've been personally affected by identity theft or whether we've only heard about the latest data breach in the news, it's hard to deny the importance of protecting information in an age and time when personal details are so freely available. For an individual, identity theft can mean thousands of lost dollars and hundreds of hours of lost time. For businesses or corporations, the cost of identity theft can reach into the billions, especially when factoring in lost reputation.
Online theft is especially prevalent, but even in today's digital age, credit card statements continue to be a gold mine for thieves when fished from the trash. In fact, all it takes is a name and address for a thief to begin to cause trouble. Protecting this information requires deliberate action, and one of the most secure solutions is a certified document shredding company.
At Gator Shredding, we'll take into account your current document security protocols, including the number of papers typically generated by your home or workplace, and put together a collection schedule that matches your needs. We're pleased to offer our customers comprehensive shredding services, including electronic media disposal for CDs, hard drives, and SD cards. Our cross-cut shredding process transforms these items, electronic and paper alike, into tiny, confetti-sized scraps. After shredding, we transport these remains to a verified local partner for recycling.
If your Vienna business handles the personally identifiable information (PII) of your customers or employees, you're likely obligated to adhere to privacy protection regulations like HIPAA, FACTA, GLBA, IRS, and FERPA. Gator Shredding effectively removes that responsibility from your shoulders, as we are fully compliant with all privacy requirements. We take care of handling, processing, and removing these documents, helping reduce your risk of liability or fines tied to improper disposal of information. After each and every shredding, we'll provide you with a Certificate of Destruction, affirming that you entrusted the items to us and that we discarded them according to regulatory standards.
Convenient and Customized Shredding
No two businesses are exactly the same, so why should your shredding be? When you're looking for document shredding in Vienna, we work with you to figure out a shredding service and schedule that does precisely what you need it to. Choose from one-time shredding to quickly and easily clear out years of documents, or sign up for regularly scheduled shredding to your Vienna office to keep the workplace clear of sensitive papers. You don't even need to remove staples or rubber bands; our trucks can shred over 6,000 pounds of paper every hour, and we'll make sure the different materials are sorted before the recycling process.
If your workplace handles confidential information on a weekly basis and it's a challenge to keep things organized, ask about our scheduled shredding service. This option comes complete with locking collection bins, which can be placed about your office and used to securely store papers until your shredding appointment. On shredding day, one of our uniformed technicians will collect, empty, and return the bins to you for continued use.
Our residential shredding service, by comparison, is designed for smaller recurring shred loads. Drop off your documents at our facility on the date and time of your choosing, and we'll handle the rest. Shredding occurs immediately, and when you make your appointment, you can request that we perform the shredding where you can witness the process.
What if your information is on hard drives, rather than paper files? That's where our hard drive destruction service comes in. Dragging your digital files to a computer trash can does nothing to prevent their recovery by a skilled individual. The best way to guarantee that the information is gone for good is to physically destroy the device that contains it. CDs, floppy disks, flash drives – we'll securely destroy them, making certain that any residual data still on the device can never be retrieved, and we'll recycle the remaining components.
We track the serial numbers of each and every hard drive we destroy, and when the process is complete, we'll provide you with a Certificate of Destruction, which records the serial numbers for your references.
As an additional bonus, when you outsource your shredding to Gator Shredding, you won't have to worry about your impact on the environment. We recycle all electronics and we offer an e-cycling program for office equipment like computers, wires, and keyboards.
Why Should Your Vienna Business Partner with a Shredding Company?
Keeps your sensitive files safe from unwanted exposure through professional destruction solutions
Ensures you remain compliant with critical industry legislation for privacy protection
Reduces your risk of identity theft & fraud
Outsourcing allows you to focus on important business processes that don't take away from employee productivity
Selection of Shredding Services:
One-Time Shredding
On-Going Shredding Service
Residential Shredding
Hard Drive Destruction
Benefits of Hiring Gator Shredding
Your employees can focus on their work, instead of fighting with the office shredder.
We observe a strict chain of custody, which means you'll always know where each and every piece of paper is, at any point in time.
You don't have to worry about coordination; our team handles all the logistics and we'll shred immediately on-site at your Vienna location.
All leftover particles are taken for recycling.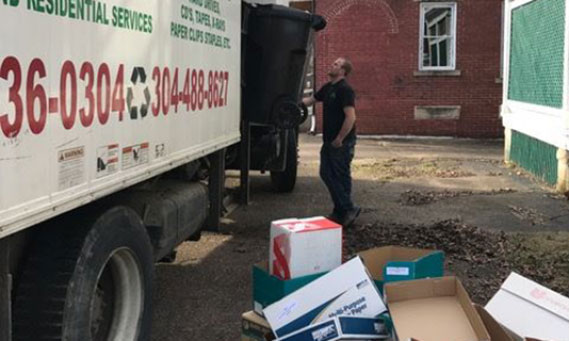 Your Trusted Local Shredding Company
Regardless of whether you're a Vienna business or resident, you can count on Gator Shredding to keep your information safe and secure. When you leave your files in a garbage or recycling bin, you surrender any security measures you might be able to provide for them. Don't leave your information to chance; contact Gator Shredding for service you can be proud of. Your privacy is our number one priority.
Ready to discuss your document shredding needs with us? Contact our team today by calling our office at (740) 236-0304 or request a quote online.
We are committed to protecting the environment
All shredded material is taken to our secure facility where it is baled and sent to the paper mill to be recycled into items such as paper towels, toilet paper and/or napkins. Recycling paper saves trees, conserves water and reduces the amount of waste going to landfills.